FCW Unavailable Warning
If the system turns off, and the EVIC displays "ACC/ FCW Unavailable, Vehicle System Error", there may be a temporary malfunction that limits FCW functionality.
Although the vehicle is still drivable under normal conditions, FCW will be temporarily unavailable. If this occurs, try activating FCW again later, following a key cycle. If the problem persists, see your authorized dealer.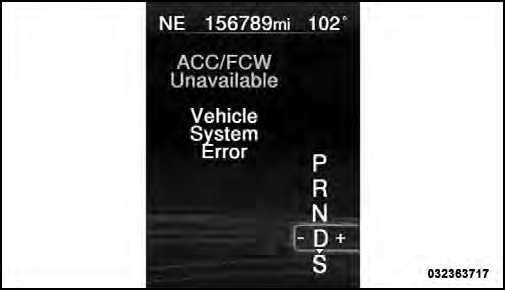 ACC/FCW Unavailable, Vehicle System Error Warning
See also:
Towing A Disabled Vehicle
Proper towing or lifting equipment is required to prevent damage to your vehicle. Use only tow bars and other equipment designed for the purpose, following equipment manufacturer's instruc ...
Cooling System Pressure Cap
The cap must be fully tightened to prevent loss of coolant, and to ensure that engine coolant (antifreeze) will return to the radiator from the coolant recovery bottle. The cap should be inspec ...
Defroster
Check operation by selecting the defrost mode and place the blower control on high speed. You should be able to feel the air directed against the windshield. See your authorized dealer for servi ...