Narrow Vehicles
Some narrow vehicles traveling near the outer edges of the lane or edging into the lane are not detected until they have moved fully into the lane. There will not be sufficient distance to the vehicle ahead.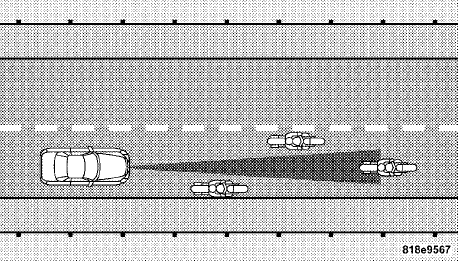 See also:
Trailer And Tongue Weight
Always load a trailer with 60% to 65% of the weight in the front of the trailer. This places 10% of the Gross Trailer Weight (GTW) on the tow hitch of your vehicle. Loads balanced over the wheel ...
MMT In Gasoline
MMT is a manganese-containing metallic additive that is blended into some gasoline to increase octane. Gasoline blended with MMT provides no performance advantage beyond gasoline of the same oct ...
Carbon Monoxide Warnings
WARNING! Carbon monoxide (CO) in exhaust gases is deadly. Follow the precautions below to prevent carbon monoxide poisoning: • Do not inhale exhaust gases. They contain carbon monoxide, a col ...