Turns And Bends
In turns or bends, ACC may detect a vehicle ahead too late or too early. This may cause your vehicle to brake late or unexpectedly. Give extra attention in curves and be ready to apply the brakes if necessary. Be sure to select an appropriate speed while driving in curves.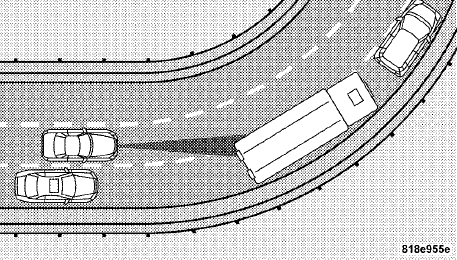 ACC may occasionally provide braking and/or a driver alert that you consider unnecessary. This may be the system's response to signs, guardrails, and other stationary objects in a curve. This may also occur at the base of steep hills. This is normal operation and your vehicle does not require service.
See also:
Manual Reclining Seats — If Equipped
For models equipped with manual reclining seats, the recline lever is located on the outboard side of the seat. Manual Recline Lever To recline, lean forward slightly, lift the lever, then push ...
Advanced Front Air Bag Features
The Advanced Front Air Bag system has multistage driver and front passenger air bags. This system provides output appropriate to the severity and type of collision as determined by the Occupant ...
All-Wheel Drive (AWD) — If Equipped
This vehicle is equipped with an active on-demand All-Wheel Drive (AWD) system which makes available optimum traction for a wide variety of road surface and driving conditions. The system minimi ...