To Activate
Push and release the ON/OFF button. The ACC menu in the EVIC displays "Adaptive Cruise Ready."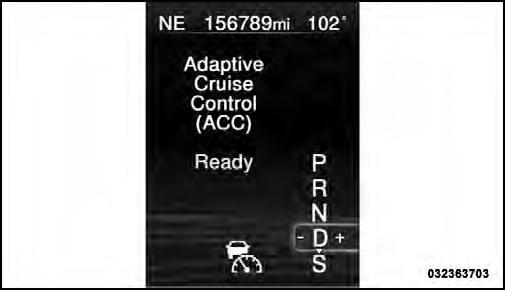 Adaptive Cruise Control (ACC) Ready
To turn the system OFF, push and release the ON/OFF button again. At this time, the system will turn off and the EVIC will display "Adaptive Cruise Control Off."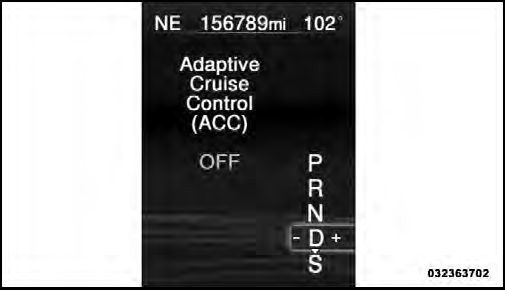 Adaptive Cruise Control (ACC) OFF
WARNING!
Leaving the Adaptive Cruise Control (ACC) system on when not in use is dangerous. You could accidentally set the system or cause it to go faster than you want. You could lose control and have a collision.
Always leave the system off when you are not using it.
See also:
Media Center 130 With Satellite Radio (Sales Code RES+RSC).
NOTE: The radio sales code is located on the lower right side of the radio faceplate. Media Center 130 (RES/RSC) ...
Using The Touch Screen Radio Controls
1. Press the MENU hard-key on the radio faceplate. 2. Touch the Rear VES soft-key to display the Rear VES Controls. If a channel list is displayed, touch the HIDE LIST soft-key to display the Rea ...
Materials Added To Engine Oils
Do not add any supplemental materials, other than leak detection dyes, to your engine oil. Engine oil is an engineered product and it's performance may be impaired by supplemental additives. ...