Adjustable Pedals — If Equipped
The adjustable pedals system is designed to allow a greater range of driver comfort for steering wheel tilt and seat position. This feature allows the brake, accelerator, and clutch pedals (if equipped) to move toward or away from the driver to provide improved position with the steering wheel.
The switch is located on the front side of the driver's seat cushion side shield.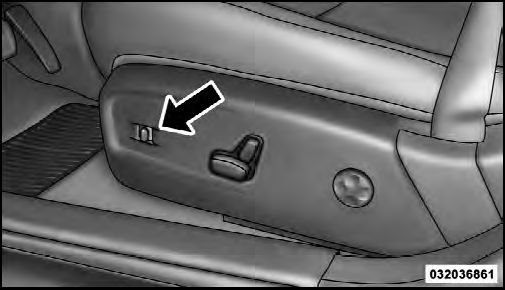 Adjustable Pedals Switch
Press the switch forward to move the pedals forward (toward the front of the vehicle).
Press the switch rearward to move the pedals rearward (toward the driver).
• The pedals can be adjusted with the ignition OFF.
• The pedals cannot be adjusted when the vehicle is in REVERSE or when the Electronic Speed Control System is on. The following messages will be displayed on vehicles equipped with the Electronic Vehicle Information System (EVIC) if the pedals are attempted to be adjusted when the system is locked out ("Adjustable Pedal Disabled — Cruise Control Engaged" or "Adjustable Pedal Disabled — Vehicle In Reverse".
NOTE:
For vehicles equipped with Driver Memory Seat, you can use your Remote Keyless Entry (RKE) transmitter or the memory switch on the driver's door trim panel to return the adjustable pedals to preprogrammed positions. Refer to "Driver Memory Seat" in "Understanding The Features Of Your Vehicle" for further information.
CAUTION!
Do not place any article under the adjustable pedals or impede its ability to move as it may cause damage to the pedal controls. Pedal travel may become limited if movement is stopped by an obstruction in the adjustable pedal's path.
WARNING!
Do not adjust the pedals while the vehicle is moving.
You could lose control and have an accident. Always adjust the pedals while the vehicle is parked.
See also:
Windshield Wipers And Washers
The wipers and washers are operated by a switch within the multifunction lever. Rotate the end of the multifunction lever to select the desired wiper speed. NOTE: Always remove any buildup of sn ...
Power Folding Outside Mirrors — If Equipped
The switch for the power folding mirrors is located between the power mirror switches L (left) and R (right). Press the switch once and the mirrors will fold in, pressing the switch a second time ...
Remote Keyless Entry (RKE)
The RKE system allows you to lock or unlock the doors, open the trunk, or activate the Panic Alarm from distances up to approximately 66 ft (20 m) using a hand-held Key Fob with RKE transmitter. ...