Heated Steering Wheel — If Equipped
The steering wheel contains a heating element that helps warm your hands in cold weather. The heated steering wheel has only one temperature setting. Once the heated steering wheel has been turned on it will operate for approximately 58 to 70 minutes before automatically shutting off. The heated steering wheel can shut off early or may not turn on when the steering wheel is already warm.
The heated steering wheel can be turned on and off using the Uconnect Touch™ System.
Touch the "Controls" soft-key then touch the "Heated Steering Wheel" soft-key to turn on the heated steering wheel. Press the "Heated Steering Wheel" soft-key a second time to turn the heated steering wheel off.

Controls Soft-Key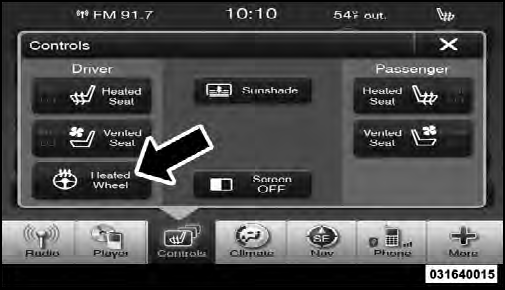 Heated Steering Wheel Soft-Key
NOTE:
The engine must be running for the heated steering wheel to operate.
Vehicles Equipped With Remote Start
On models that are equipped with remote start, the heated steering wheel can be programmed to come on during a remote start. Refer to "Remote Starting System —If Equipped" in "Things To Know Before Starting Your Vehicle" for further information.
WARNING!
• Persons who are unable to feel pain to the skin because of advanced age, chronic illness, diabetes, spinal cord injury, medication, alcohol use, exhaustion, or other physical conditions must exercise care when using the steering wheel heater. It may cause burns even at low temperatures, especially if used for long periods.
• Do not place anything on the steering wheel that insulates against heat, such as a blanket or steering wheel covers of any type and material.. This may cause the steering wheel heater to overheat.
See also:
Operation Instructions - (Disc Mode For CD And MP3/WMA Audio Play, DVD-Video)
The radio DVD player and many DVD discs are coded by geographic region. These region codes must match in order for the disc to play. If the region code for the DVD disc does not match the region ...
Customer-Programmable Features (System Setup)
Personal Settings allows you to set and recall features when the transmission is in PARK. If the transmission is out of PARK or the vehicle begins moving, a warning message SYSTEM SETUP NOT AVAI ...
Transmission Limp Home Mode
Transmission function is monitored electronically for abnormal conditions. If a condition is detected that could result in transmission damage, Transmission Limp Home Mode is activated. In this ...