Driver Memory Seat — If Equipped
This feature allows the driver to store up to two different memory profiles for easy recall through a memory switch. Each memory profile contains desired position settings for the driver seat, side mirrors, adjustable pedals (if equipped), and power tilt and telescopic steering column (if equipped) and a set of desired radio station presets. Your Remote Keyless Entry (RKE) transmitter can also be programmed to recall the same positions when the UNLOCK button is pressed.
NOTE:
• Only one RKE transmitter can be linked to each of the memory positions.
• Passive Entry door handles cannot be linked to the memory function. Use either the memory recall switch or the RKE transmitter (if linked to the memory feature) to recall memory positions 1 or 2.
The memory seat switch is located on the driver's door trim panel. The switch consists of three buttons: The (S) button, which is used to activate the memory save function and the (1) and (2) buttons which are used to recall either of two pre-programmed memory profiles.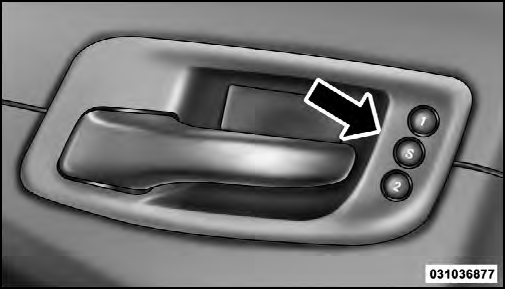 Memory Seat Switch
See also:
Seats
Seats are a part of the Occupant Restraint System of the vehicle. WARNING! • It is dangerous to ride in a cargo area, inside or outside of a vehicle. In a collision, people riding in these a ...
Voice Tree
NOTE: 1. You can replace "950 AM" with any other AM or FM frequency, such as "98.7 FM". 2. You can replace "80's on 8" with any other satellite station name received by the radio ...
Automatic Transmission
CAUTION! Damage to the transmission may occur if the following precautions are not observed: • Shift into PARK only after the vehicle has come to a complete stop. • Shift into or out of REV ...