Active Head Restraints — Front Seats
The front driver and passenger seats are equipped with Active Head Restraints (AHR). In the event of a rear impact the AHRs will automatically extend forward minimizing the gap between the back of the occupants head and the AHR.
The AHRs will automatically return to their normal position following a rear impact. If the AHRs do not return to their normal position see your authorized dealer immediately.
To raise the head restraint, pull upward on the head restraint. To lower the head restraint, press the push button, located at the base of the head restraint, and push downward on the head restraint.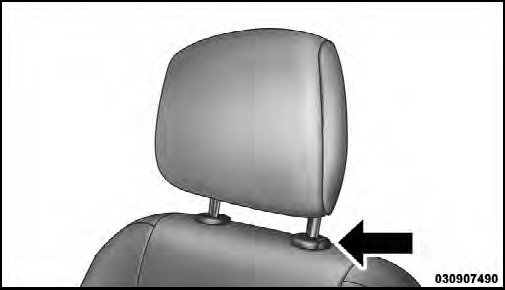 Push Button
NOTE:
The head restraints should only be removed by qualified technicians, for service purposes only. If either of the head restraints require removal, see your authorized dealer.
WARNING!
Do not place items over the top of the Active Head Restraint, such as coats, seat covers or portable DVD players. These items may interfere with the operation of the Active Head Restraint in the event of a collision and could result in serious injury or death.
See also:
Front And Side Impact Sensors
In front and side impacts, impact sensors can aid the ORC in determining appropriate response to impact events. ...
Delete Uconnect™ Phonebook Entry
NOTE: Editing phonebook entries is recommended when the vehicle is not in motion. • Press the button to begin. • After the "Ready" prompt and the following beep, say "Phonebook Delet ...
Auto Unlock On Exit Programming
The Automatic Unlock Doors On Exit feature can be enabled or disabled as follows: • For vehicles equipped with the Electronic Vehicle Information Center (EVIC), refer to "Electronic Vehicle ...