Emergency And Towing Assistance
The Emergency and Towing Favorite numbers can only be altered. These cannot be deleted and the names cannot be changed.
To change the Emergency or Towing number follow these steps.
• Touch the "Phonebook" soft-key from the Phone main screen.
• Touch the "Favorites" soft-key. Next scroll to the bottom of the list to locate the Emergency and Towing Favorites.
• Touch the + Options soft-key.
• Touch the + next to appropriate Favorite that is to be altered.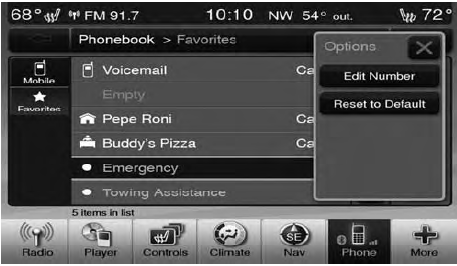 • The Options pop-up will appear and you can choose between Editing the number or resetting the number to default.
See also:
Vehicle Storage
If you are leaving your vehicle dormant for more than 21 days, you may want to take steps to protect your battery. You may do the following: • Remove the 20 Amp mini-fuse in the Totally Integra ...
Engine Oil Overheating (2.4L Engine Only) — If Equipped
During sustained high-speed driving or trailer tow up long grades on a hot day, the engine oil temperature may become too hot. If this happens, the "HOTOIL" message flashes in the odometer a ...
Premium System – If Equipped
The Tire Pressure Monitor System (TPMS) uses wireless technology with wheel rim mounted electronic sensors to monitor tire pressure levels. Sensors, mounted to each wheel as part of the valve st ...