To Remove A Favorite
• To remove a Favorite, select phonebook from the Phone main screen.
• Next select Favorites on the left side of the screen and then touch the + Options soft-key.
• Touch the + next to the Favorite you would like to remove.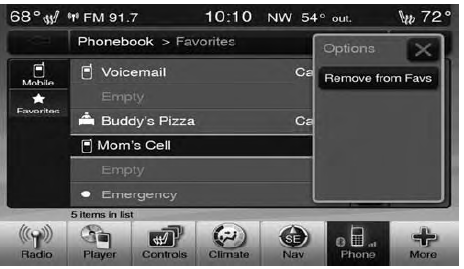 • The Options pop-up will display, touch "Remove from Favs".
See also:
2011 Chrysler 300C Review by Sara Lacey
As a parent, I get nervous whenever my kids' progress reports come out. I have to believe Chrysler knows how I feel, because the 300C hasn't seen an update since 2004. The automaker will be happy ...
Radio AM
To switch to the AM band, say "AM" or "Radio AM". In this mode, you may say the following commands: • "Frequency #" (to change the frequency) • "Next Station" (to select the ne ...
RW/FF
Press and hold the FF (Fast Forward) button and the CD player will begin to fast forward until FF is released, or RW or another CD button is pressed. The RW (Reverse) button works in a similar m ...