Managing Your Favorite Phonebook
There are three ways you can add an entry to your Favorite Phonebook.
1. During an active call of a number to make a favorite, touch and hold a favorite button on the top of the phone main screen.
2. After loading the mobile phonebook, select phonebook from the Phone main screen, then select the appropriate number. Touch the + next to the selected number to display the options pop-up. In the pop-up select "Add to Favorites".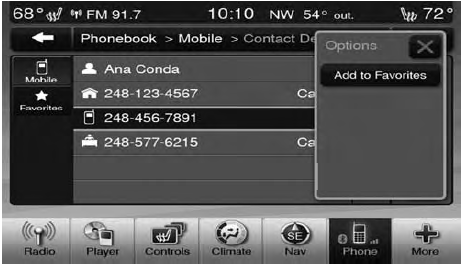 NOTE:
If the Favorites list is full, you will be asked to remove an existing favorite.
3. From the Phone main screen, select phonebook. From the phonebook screen, select the "Favorites" soft-key and then select the + soft-key located to the right of the phonebook record. Select an empty entry and touch the + on that selected entry. When the Options pop-up appears, touch "Add from Mobile". You will then be asked which contact and number to choose from your mobile phonebook.
When complete the new favorite will be shown.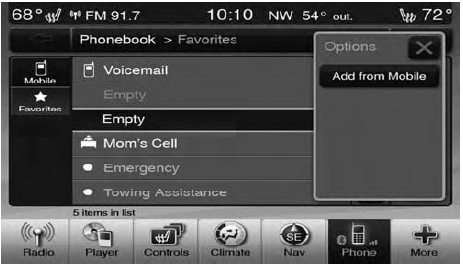 See also:
Blind Spot Alert Off
When the BSM system is turned off there will be no visual or audible alerts from either the BSM or RCP systems. NOTE: The BSM system will store the current operating mode when the vehicle is s ...
Easy Exit Seat
This feature provides automatic driver seat positioning to enhance driver mobility when entering and exiting the vehicle. To make your selection, press and release the SELECT button until a chec ...
Parksense Sensors
The four ParkSense sensors, located in the rear fascia/ bumper, monitor the area behind the vehicle that is within the sensors' field of view. The sensors can detect obstacles from approximate ...