Pair Additional Mobile Phones
• Touch the "More" soft-key to begin,
• Touch the "Settings" soft-key,
• Next, touch the "Phone/Bluetooth " soft-key,
• Touch the "Add Device" soft-key,
• Search for available devices on your Bluetooth enabled mobile phone. When prompted on the phone, enter the name and PIN shown on the Uconnect Touch™ screen,
• Uconnect™ Phone will display an in process screen while the system is connecting,
• When the pairing process has successfully completed, the system will prompt you to choose whether or not this is your favorite phone. Selecting Yes will make this phone the highest priority. This phone will take precedence over other paired phones within range.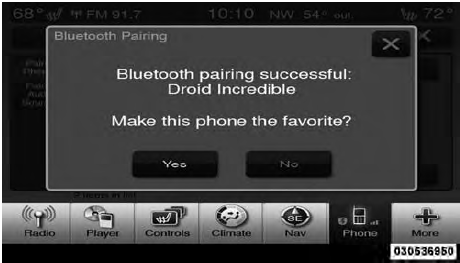 NOTE:
For phones which are not made a favorite, the phone priority is determined by the order in which it was paired. The latest phone paired will have the higher priority.
You can also use the following VR commands to bring up the Paired Phone screen from any screen on the radio:
• "Show Paired Phones" or
• "Connect My Phone"
See also:
Barge In — Overriding Prompts
The "Voice Command" button can be used when you wish to skip part of a prompt and issue your voice command immediately. For example, if a prompt is asking "Would you like to pair a phone, ...
Natural Speech
Your Uconnect™ Phone Voice system uses a Natural Language Voice Recognition (VR) engine. Natural speech allows the user to speak commands in phrases or complete sentences. The system filters ou ...
Pinch Protect Feature
This feature will detect an obstruction in the opening of the sunroof during Express Close operation. If an obstruction is detected, the sunroof will automatically retract. Remove the obstruction ...