Automatic Dimming Mirror
This mirror automatically adjusts for headlight glare from vehicles behind you. This feature will be defaulted on, and only be disabled when the vehicle is moving in reverse.
NOTE:
This feature is disabled when the vehicle is moving in reverse.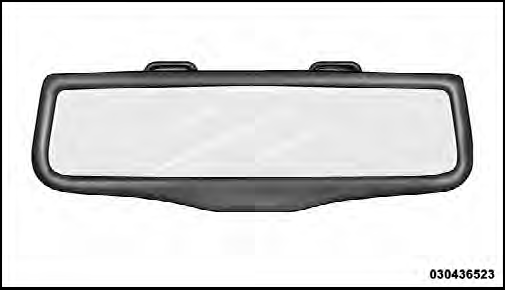 Automatic Dimming Mirror
CAUTION!
To avoid damage to the mirror during cleaning, never spray any cleaning solution directly onto the mirror.
Apply the solution onto a clean cloth and wipe the mirror clean.
See also:
Cooling System Pressure Cap
The cap must be fully tightened to prevent the loss of engine coolant (antifreeze), and to ensure that engine coolant (antifreeze) will return to the radiator from the coolant recovery bottle. ...
Power Lumbar — If Equipped
Vehicles equipped with power driver or passenger seats may be also be equipped with power lumbar. The power lumbar switch is located on the outboard side of the power seat. Push the switch forwa ...
Inserting Compact Disc(s)
Gently insert one CD into the CD player with the CD label facing up. The CD will automatically be pulled into the CD player and the CD icon will illuminate on the radio display. If a CD does not ...