Automatic Dimming Mirror
This mirror automatically adjusts for headlight glare from vehicles behind you. This feature will be defaulted on, and only be disabled when the vehicle is moving in reverse.
NOTE:
This feature is disabled when the vehicle is moving in reverse.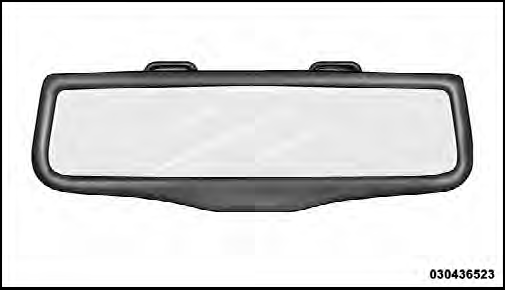 Automatic Dimming Mirror
CAUTION!
To avoid damage to the mirror during cleaning, never spray any cleaning solution directly onto the mirror.
Apply the solution onto a clean cloth and wipe the mirror clean.
See also:
Traction Grades
The Traction grades, from highest to lowest, are AA, A, B, and C. These grades represent the tire's ability to stop on wet pavement, as measured under controlled conditions on specified govern ...
Reset Auto Up
Should the Auto Up feature stop working, the window probably needs to be reset. To reset Auto Up: 1. Pull the window switch up to close the window completely and continue to hold the switch up fo ...
Torque Converter Clutch
A feature designed to improve fuel economy has been included in the automatic transmission on your vehicle. A clutch within the torque converter engages automatically at calibrated speeds. This m ...