Supplemental Seat-Mounted Side Air Bags (SAB)
Supplemental Seat-Mounted Side Air Bags (SAB) may provide enhanced protection to help protect an occupant during a side impact. The SAB is marked with an air bag label sewn into the outboard side of the front seats.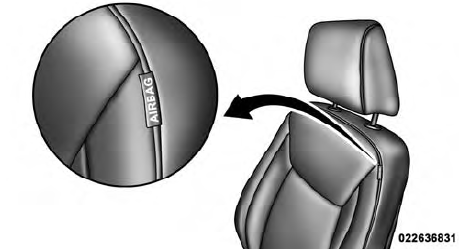 Supplemental Seat-Mounted Side Air Bag Label
When the air bag deploys, it opens the seam between the front and side of the seat's trim cover. Each air bag deploys independently; a left side impact deploys the left air bag only and a right-side impact deploys the right air bag only.
See also:
Keyless Ignition Node (KIN)
This feature allows the driver to operate the ignition switch with the push of a button, as long as the Remote Keyless Entry (RKE) transmitter is in the passenger compartment. The Keyless Ignit ...
Fuel Requirements
Your vehicle will operate on both unleaded gasoline with an octane rating of 87, or E-85 fuel, or any mixture of these two. For best results, a refueling pattern that alternates between E-85 and ...
Interior Lighting Off
Rotate the left dimmer control to the off position (extreme bottom). The interior lights will remain off when the doors or liftgate are open. ...