Supplemental Seat-Mounted Side Air Bags (SAB)
Supplemental Seat-Mounted Side Air Bags (SAB) may provide enhanced protection to help protect an occupant during a side impact. The SAB is marked with an air bag label sewn into the outboard side of the front seats.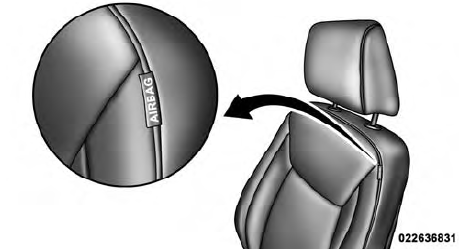 Supplemental Seat-Mounted Side Air Bag Label
When the air bag deploys, it opens the seam between the front and side of the seat's trim cover. Each air bag deploys independently; a left side impact deploys the left air bag only and a right-side impact deploys the right air bag only.
See also:
Before You Begin Programming HomeLink
Be sure that your vehicle is parked outside of the garage before you begin programming. For more efficient programming and accurate transmission of the radio-frequency signal it is recommended th ...
Rear Head Restraints
The center head restraint has two positions, up or down. When the center seat is being occupied the head restraint should be in the raised position. When there are no occupants in the center seat ...
Toggling Between Calls
If two calls are in progress (one active and one on hold), press the button until you hear a single beep, indicating that the active and hold status of the two calls have switched. Only one c ...