Adjustable Upper Shoulder Belt Anchorage
In the driver and front passenger seats, the shoulder belt can be adjusted upward or downward to position the belt away from your neck. Push and fully depress the button above the webbing to release the anchorage, then move it up or down to the position that fits you best.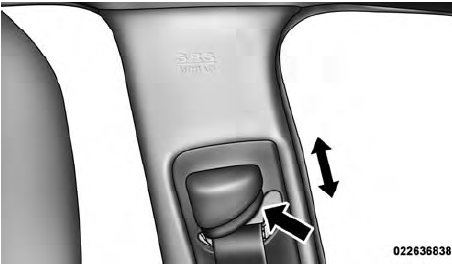 Adjusting Upper Shoulder Belt
As a guide, if you are shorter than average you will prefer a lower position, and if you are taller than average you will prefer a higher position. When you release the anchorage try to move it up and down to make sure that it is locked in position.
In the rear seat, move toward the center of the seat to position the belt away from your neck.
See also:
Prepare A List
Make a written list of your vehicle's problems or the specific work you want done. If you've had an accident or work done that is not on your maintenance log, let the service advisor know. ...
Towing Requirements – Trailer Lights And Wiring
Whenever you pull a trailer, regardless of the trailer size, stop lights and turn signals on the trailer are required for motoring safety. ...
RW/FF
Press and hold FF (Fast Forward) and the CD player will begin to fast forward until FF is released or RW or another CD button is pressed. The RW (Reverse) button works in a similar manner. ...