Trunk Emergency Release
As a security measure, a trunk internal emergency release lever is built into the trunk latching mechanism. In the event of an individual being locked inside the trunk, the trunk can be simply opened by pulling on the glow-inthe- dark handle attached to the trunk latching mechanism.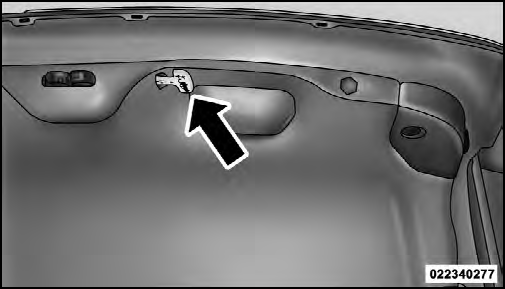 Trunk Emergency Release
See also:
More Than Lipstick on a Pig
Were the 200 merely a reskinned Sebring, we would dismiss it as lipstick on a two-ton pig, hardly worthy of a new moniker. But although Chrysler could have gone further to make the 200 more fun to ...
Controlling The iPod Or External USB Device Using Radio Buttons
To get into the iPod /USB/MP3 control mode and access a connected audio device, either press the "AUX" button on the radio faceplate or press the VR button and say USB or Switch to USB . Onc ...
Enhanced Accident Response System
In the event of an impact causing air bag deployment, if the communication network remains intact, and the power remains intact, depending on the nature of the event the ORC will determine wheth ...