A/C Air Filter – If Equipped
Refer to the "Maintenance Schedule" for the proper maintenance intervals.
WARNING!
Do not remove the A/C Air Filter while the blower is operating or personal injury may result.
The A/C Air Filter is located in the fresh air inlet behind the glove box. Perform the following procedure to replace the filter:
1. Open the glove box and remove all contents.
2. Push in on the sides of the glove box and lower the door.
3. Disconnect the glove box door dampener from the slot on the side of the box. This is done by grasping the dampener connector (on the outside of the box) and the end of the connector pin (on the inside of the box) with your thumb and forefinger and pulling outward while lightly lifting upward on the door with your other hand.
Once disconnected, the dampener will retract underneath the instrument panel if you release it.
4. Pivot the glove box downward.
5. Disengage the two retaining tabs that secure the filter cover to the HVAC housing and remove the cover.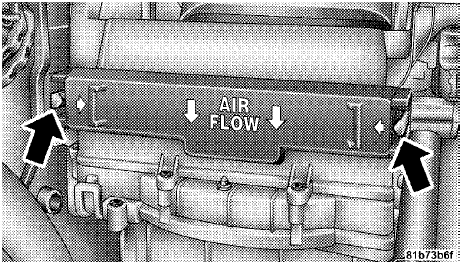 A/C Air Filter Replacement
6. Remove the A/C Air Filter by pulling it straight out of the housing.
7. Install the A/C Air Filter with the arrow on the filter pointing toward the floor. When installing the filter cover, make sure the retaining tabs fully engage the cover.
CAUTION!
The A/C Air Filter is identified with an arrow to indicate airflow direction through the filter. Failure to install the filter properly will result in the need to replace it more often.
8. Reinstall the glove box door dampener and glove box.
See also:
Removal
The Quad seats can be removed if additional storage is needed. With the seat in the easy entry position, lift the cross beam forward and up to release the front anchor latches. Cross Beam for ...
Connecting The iPod Or External USB Device
Use the connection cable to connect an iPod or external USB device to the vehicle's USB connector port which is located in the glove compartment. USB Connector Port NOTE: The glove compartm ...
Headlights
Turn the headlight switch knob to the second detent to turn the headlights and parking lights on. This also turns on all instrument panel lighting. To change the brightness of the instrument ...