Engine Compartment — 2.4L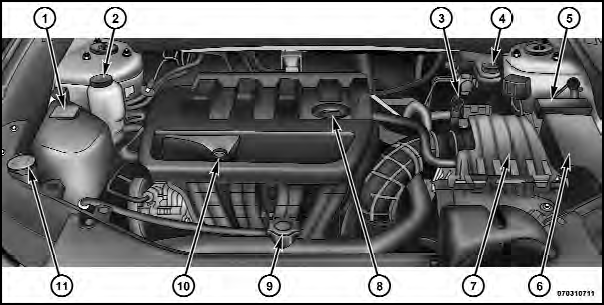 Engine Compartment — 2.4L
1 — Engine Coolant Reservoir 2 — Power Steering Fluid Reservoir 3 — Automatic Transmission Dipstick 4 — Brake Fluid Reservoir 5 — Integrated Power Module (Fuses) 6 — Power Distribution Center (Fuses) 7 — Air Cleaner Filter 8 — Engine Oil Fill 9 — Coolant Pressure Cap 10 — Engine Oil Dipstick 11 — Washer Fluid Reservoir
See also:
Wheel And Wheel Trim Care
• All wheels and wheel trim, especially aluminum and chrome plated wheels, should be cleaned regularly with a mild soap and water to prevent corrosion. • To remove heavy soil and/or excessive ...
Manual Compass Calibration — If Equipped
If the compass appears erratic and the CAL indicator does not appear in the EVIC display, you must put the compass into the Calibration Mode manually, as follows: 1. Turn ON the ignition switch. ...
Setting the Tone, Balance, and Fade
Push the rotary TUNE/SCROLL control knob and BASS will display. Turn the TUNE/SCROLL control knob to the right or left to increase or decrease the bass tones. Push the rotary TUNE/SCROLL control ...