Trailer And Tongue Weight
Always load a trailer with 60% to 65% of the weight in the front of the trailer. This places 10% of the Gross Trailer Weight (GTW) on the tow hitch of your vehicle. Loads balanced over the wheels or heavier in the rear can cause the trailer to sway severely side to side which will cause loss of control of vehicle and trailer. Failure to load trailers heavier in front is the cause of many trailer collisions.
Never exceed the maximum trailer tongue weight stamped on your bumper or trailer hitch.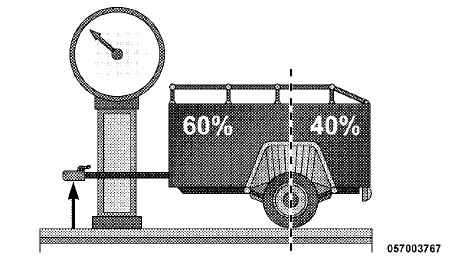 Consider the following items when computing the weight on the rear axle of the vehicle:
• The trailer tongue weight of the trailer.
• The weight of any other type of cargo or equipment put in or on your vehicle.
• The weight of the driver and all passengers.
NOTE:
Remember that everything put into or on the trailer adds to the load on your vehicle. Also, additional factory-installed options, or authorized dealer-installed options, must be considered as part of the total load on your vehicle. Refer to "Tire Safety Information/Tire and Loading Information Placard" in "Starting and Operating" for the maximum combined weight of occupants and cargo for your vehicle.
CAUTION!
Incorrect trailer tongue weight could result in increased yaw or vehicle instability. A negative trailer tongue weight could unload the rear suspension of the tow vehicle decreasing vehicle stability. Negative trailer tongue weight could cause the trailer to squat and potentially become disengaged from the tow vehicle resulting in a runaway trailer condition.
See also:
Controlling The iPod Or External USB Device Using Radio Buttons
To get into the iPod /USB/MP3 control mode and access a connected audio device, either press the "AUX" button on the radio faceplate or press the VR button and say USB or Switch to USB . Onc ...
Uconnect Touch™ Settings
The Uconnect Touch™ system uses a combination of soft and hard keys located on the center of the instrument panel that allows you to access and change the customer programmable features. ...
2011 Chrysler Town & Country Review by Scott Burgess
The minivan will never die. Oh, we may try to kill these little wonder boxes, but they've got more lives than Gloria Gaynor's career. From a purely practical standpoint, the minivan is nearly pe ...