Trailer Hitch Classification
The following chart provides the industry standard for the maximum trailer weight a given trailer hitch class can tow and should be used to assist you in selecting the correct trailer hitch for your intended towing condition.
Refer to the Trailer Towing Weights (Maximum Trailer Weight Ratings) chart for the Max. GTW towable for your given drivetrain.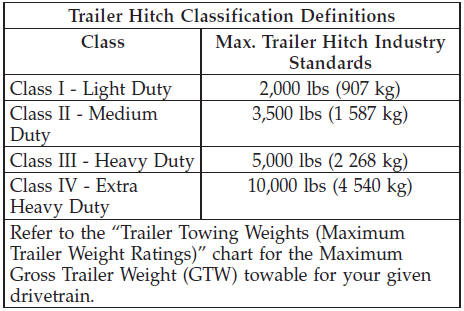 All trailer hitches should be professionally installed on your vehicle.
See also:
Fold-Flat
To fold the seat, lift the recliner lever to the full upward position and push the seatback forward until it rests on the seat cushion. Fold-Flat Quad Seat ...
Ride Comfort And Vehicle Stability
Proper tire inflation contributes to a comfortable ride. Over-inflation produces a jarring and uncomfortable ride. ...
Headlamp Off Delay
When this feature is selected, the driver can choose to have the headlights remain on for 0, 30, 60, or 90 seconds when exiting the vehicle. To make your selection, scroll up or down until the p ...