Tire Rotation Recommendations
Tires on the front and rear axles of vehicles operate at different loads and perform different steering, driving, and braking functions. For these reasons, they wear at unequal rates.
These effects can be reduced by timely rotation of tires.
The benefits of rotation are especially worthwhile with aggressive tread designs such as those on all season type tires. Rotation will increase tread life, help to maintain mud, snow and wet traction levels, and contribute to a smooth, quiet ride.
Refer to the "Maintenance Schedule" for the proper maintenance intervals. The reasons for any rapid or unusual wear should be corrected prior to rotation being performed.
The suggested rotation method is the "rearward cross" shown in the following diagram. This rotation pattern does not apply to some directional tires that must not be reversed.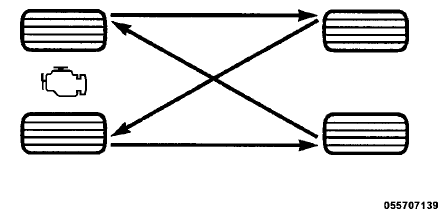 Tire Rotation
See also:
Tire Inflation Pressures
The proper cold tire inflation pressure is listed on the driver's side "B" Pillar or rear edge of the driver's side door. Some vehicles may have Supplemental Tire Pressure Information f ...
Outside Mirrors With Turn Signal And Approach Lighting — If Equipped
Driver and passenger outside mirrors with turn signal and approach lighting contain four LEDs, which are located in the upper outer corner of each mirror. Three of the LEDs are turn signal indica ...
To Exit Remote Start Mode And Drive The Vehicle
Before the end of the 15 minute cycle, press and release the UNLOCK button on the RKE transmitter to unlock the doors and disarm the Vehicle Security Alarm (if equipped). Then insert the key int ...