Compass Variance
Compass Variance is the difference between Magnetic North and Geographic North. To compensate for the differences, the variance should be set for the zone where the vehicle is driven, per the zone map. Once properly set, the compass will automatically compensate for the differences and provide the most accurate compass heading.
NOTE:
Magnetic and battery powered devices, (such as cell phones, iPod's, radar detectors, PDA's and laptops) should be kept away from the top of the instrument panel. This is where the compass module is located and such devices may interfere and cause false compass readings.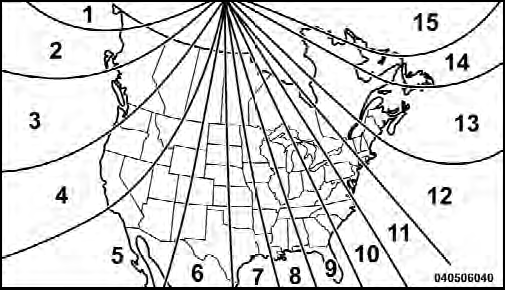 Compass Variance Map
To Change Compass Variance:
1. Turn the ignition switch to the ON position. Leave the shift lever in PARK.
2. Press and release the MENU button until "Personal Settings" displays in the EVIC.
3. Press and release the DOWN button until "Compass Variance" and the current Variance Value displays in the EVIC.
4. Press and release the SELECT button to increment the Variance Value by one, (one button press per update), until the proper variance zone is selected according to the map.
NOTE:
The Variance Values will wrap around from 15 back to 1. The Default Variance is Zone 8.
See also:
Ride, Handling & Braking
The Sebring rode softly, but had a tendency to bounce like a pogo stick after manhole covers and potholes. The 200's suspension has been overhauled, Chrysler says; indeed, the pogo-stick effect is ...
Folding Rear Seat
The rear seatbacks can be folded forward to provide an additional storage area. To fold the rear seatback, pull on the loops located on the upper seatback. NOTE: These loops can be tucked away w ...
Programming A Rolling Code
For programming garage door openers that were manufactured after 1995. These garage door openers can be identified by the "LEARN" or "TRAIN" button located where the hanging antenna is a ...