Storage
The center console is located between the front driver and passenger seats. The center console armrest slides forward from design position to provide added user comfort. The center console can be used for storage and is also equipped with an electrical power outlet. Refer to "Power Outlets" in "Understanding The Feature of Your Vehicle" for further information.

Center Console
Two separate storage compartments are also located underneath the armrest.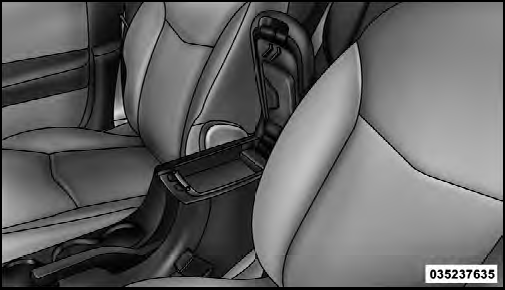 Center Console Storage
The top compartment holds small items, such as a pen and note pad, while the larger bottom compartment will hold CDs and alike. The bottom compartment also contains a 12 Volt power outlet. The console's front opening lid allows for easy access to these compartments.
NOTE:
• A notch in the front of the console base allows for use of a cellular phone while it is plugged into the power outlet with the armrest latched down.
• The power outlet can also energize the cigar lighter in the optional cup holder ash receiver.
WARNING!
Do not operate this vehicle with a console compartment lid in the open position. Cellular phones, music players, and other handheld electronic devices should be stowed while driving. Use of these devices while driving can cause an accident due to distraction, resulting in death or injury.