Mist Feature
Push down on the wiper control lever to activate a single wipe to clear the windshield of road mist or spray from a passing vehicle. As long as the lever is held down, the wipers will continue to operate.
NOTE:
The mist feature does not activate the washer pump; therefore, no washer fluid will be sprayed on the windshield. The wash function must be used in order to spray the windshield with washer fluid.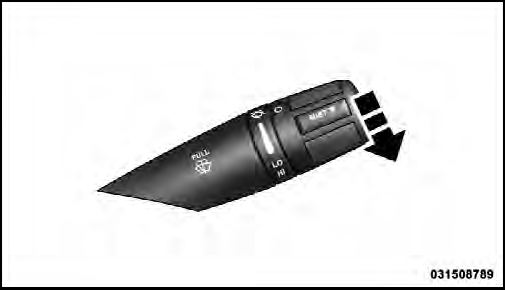 Mist Control
See also:
Starting
The characteristics of E-85 fuel make it unsuitable for use when ambient temperatures fall below 0°F (-18°C). In the range of 0°F (-18°C) to 32°F (0°C), you may experience an increase in t ...
2010 Chrysler Town & Country Review by Mike Hanley
A minivan can get away with a lot of things if it has the right features, and Chrysler's Town & Country does, including imaginative seating options and compelling entertainment features. There ...
Ambient Light Control
Rotate the right dimmer control upward or downward to increase or decrease the brightness of the door handle lights and ambient light located in the overhead console. Door Handle/Ambient Light ...