Intermittent Wiper System
Use the intermittent wiper system when weather conditions make a single wiping cycle with a variable pause between cycles desirable. Rotate the end of the windshield wiper/washer control lever to the first detent, and then turn the end of the lever to select the desired delay interval. There are five delay settings, which allow you to regulate the wipe interval from a minimum of one cycle every second to a maximum of approximately 18 seconds between cycles.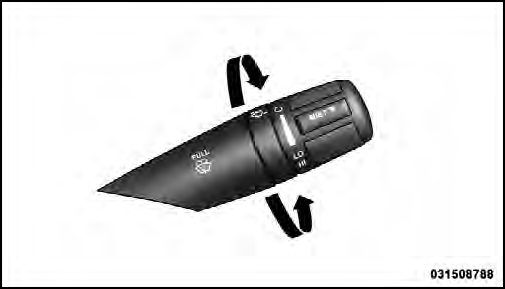 Changing Intermittent Settings
NOTE:
The wiper delay times depend on vehicle speed.
If the vehicle is moving less than 10 mph (16 km/h), delay times will be doubled.
See also:
Dialing Using The Mobile Phone Keypad
You can dial a phone number with your mobile phone keypad and still use the Uconnect™ Phone (while dialing via the mobile phone keypad, the user must exercise caution and take precautionary sa ...
Without The Ignition Key
Special care must be taken when the vehicle is towed with the ignition in the LOCK position. Flatbed towing is the preferred towing method. However, if a flatbed towing vehicle is not available, ...
Closing Power Shade — Express
Press the switch forward and release it within one-half second and the shade will close automatically from any position. The shade will close fully and stop automatically. This is called "Expre ...