Active Head Restraints — Front Seats
Active Head Restraints are passive, deployable components, and vehicles with this equipment cannot be readily identified by any markings, only through visual inspection of the head restraint. The head restraint will be split in two halves, with the front half being soft foam and trim, the back half being decorative plastic.
When AHRs deploy during a rear impact, the front half of the head restraint extends forward to minimize the gap between the back of the occupant's head and the AHR.
This system is designed to help prevent or reduce the extent of injuries to the driver and front passenger in certain types of rear impacts. Refer to "Occupant Restraints" in "Things To Know Before Starting Your Vehicle" for further information.
To raise the head restraint, pull upward on the head restraint. To lower the head restraint, press the push button, located at the base of the head restraint, and push downward on the head restraint.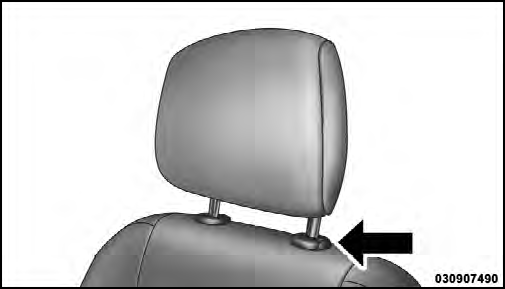 Push Button
For comfort the Active Head Restraints can be tilted forward and rearward. To tilt the head restraint closer to the back of your head, pull forward on the bottom of the head restraint. Push rearward on the bottom of the head restraint to move the head restraint away from your head.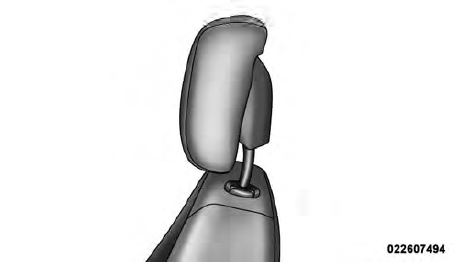 Active Head Restraint (Normal Position)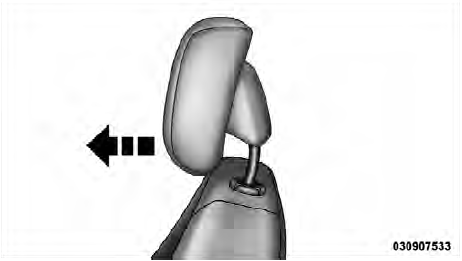 Active Head Restraint (Tilted)
NOTE:
• The head restraints should only be removed by qualified technicians, for service purposes only. If either of the head restraints require removal, see your authorized dealer.
• In the event of deployment of an Active Head Restraint, refer to "Occupant Restraints/Resetting Active Head Restraints (AHR)" in "Things to Know Before Starting Your Vehicle" for further information.
WARNING!
• Do not place items over the top of the Active Head Restraint, such as coats, seat covers or portable DVD players. These items may interfere with the operation of the Active Head Restraint in the event of a collision and could result in serious injury or death.
• Active Head Restraints may be deployed if they are struck by an object such as a hand, foot or loose cargo. To avoid accidental deployment of the Active Head Restraint ensure that all cargo is secured, as loose cargo could contact the Active Head Restraint during sudden stops. Failure to follow this warning could cause personal injury if the Active Head Restraint is deployed.
See also:
TIME Button
Press the TIME button to alternate display of the time and radio frequency. ...
Weight-Distributing Hitch
A weight-distributing system works by applying leverage through spring (load) bars. They are typically used for heavier loads to distribute trailer tongue weight to the tow vehicle's front axl ...
Connect Or Disconnect Link Between The Uconnect™ Phone And Mobile Phone
Your mobile phone can be paired with many different electronic devices, but can only be actively "connected" with one electronic device at a time. If you would like to connect or disconnect t ...