Inside Day/Night Mirror
A two-point pivot system allows for horizontal and vertical mirror adjustment. Adjust the mirror to center on the view through the rear window.
Headlight glare can be reduced by moving the small control under the mirror to the night position (toward the rear of the vehicle). The mirror should be adjusted while set in the day position (toward the windshield).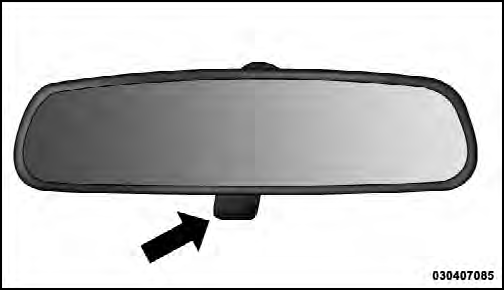 Adjusting Rearview Mirror
See also:
Fuel System Cautions
CAUTION! Follow these guidelines to maintain your vehicle's performance: • The use of leaded gas is prohibited by Federal law. Using leaded gasoline can impair engine performance and damage ...
SET/RND Button — To Set the Pushbutton Memory
When you are receiving a station that you wish to commit to pushbutton memory, press the SET/RND button. The symbol SET 1 will now show in the display window. Select the button (1–6) you wish ...
Reformulated Gasoline
Many areas of the country require the use of cleaner burning gasoline referred to as "Reformulated Gasoline." Reformulated gasoline contains oxygenates and are specifically blended to reduce ...