Controlling The Rear Climate Controls From The Front ATC Panel
The Three-Zone ATC system allows for adjustment of the rear climate controls from the front ATC panel.
To change the rear system settings:
1. Press REAR button to change control to rear control mode, Rear display (below) will appear. Control functions now operate rear system.
2. To return to Front screen, press REAR button again, or it will revert to the Front screen after six seconds.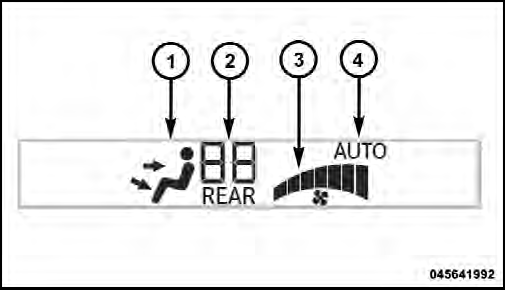 Front ATC Panel Rear Control Display
1. Mode Display
This display shows the current Mode selection.
2. Rear Temperature Display
This display shows the temperature setting for the rear seat occupants.
3. Blower Control Display
This display shows the current Blower speed selection.
4. Rear Auto Indicator
This indicates when the system is in Rear Auto mode.
See also:
Delete Uconnect™ Phone Paired Mobile Phones
• Press the button to begin. • After the "Ready" prompt and the following beep, say "Setup Phone Pairing". • At the next prompt, say "Delete" and follow the prompts. • You ...
TUNE Control
Turn the rotary TUNE/SCROLL control knob clockwise to increase or counterclockwise to decrease the frequency. ...
Info Button (CD Mode For MP3 Play)
Pressing the INFO button repeatedly will scroll through the following TAG information: Song Title, Artist, File Name, and Folder Name (if available). Press the INFO button once more to return to ...