Display Settings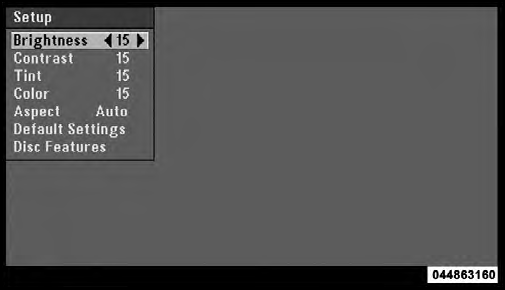 Video Screen Display Settings
When watching a video source (DVD Video with the disc in Play mode, Aux Video, etc.), pressing the remote control's SETUP button activates the Display Settings menu. These settings control the appearance of the video on the screen. The factory default settings are already set for optimum viewing, so there is no need to change these settings under normal circumstances.
To change the settings, press the remote control's navigation buttons (

,

) to select an item, then press the remote control's navigation buttons (

,

) to change the value for the currently selected item. To reset all values back to the original settings, select the Default Settings menu option and press the remote control's ENTER button.
Disc Features control the remote DVD player's (if equipped) settings of DVD being watched in the remote player.
See also:
Engine Oil Selection
For best performance and maximum protection under all types of operating conditions, the manufacturer recommends engine oils that are API Certified and meet the requirements of Chrysler Material ...
Tire Chains
Use only compact chains or other traction aids that meet SAE type "Class S" specifications. Chains must be the proper size for the vehicle, as recommended by the chain manufacturer. Install ...
Tire Markings
1 — U.S. DOT Safety Standards Code (TIN) 4 — Maximum Load 2 — Size Designation 5 — Maximum Pressure 3 — Service Description 6 — Treadwear, Traction and Temperature Grades NOTE: ...