Headphones Operation
The headphones receive two separate channels of audio using an infrared transmitter from the video screen.
Front seat occupants receive some headphone audio coverage to allow them to adjust the headphone volume for the young rear seat occupants that may not be able to do so for themselves.
If no audio is heard after increasing the volume control, verify that the screen is turned on and in the down position and that the channel is not muted and the headphone channel selector switch is on the desired channel. If audio is still not heard, check that fully charged batteries are installed in the headphones.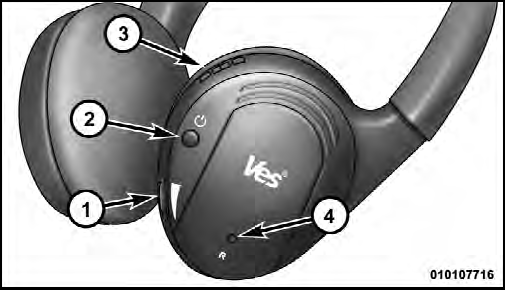 1. Volume Control
2. Power Button
3. Channel Selection Switch
4. Power Indicator
See also:
Spare Tire Matching Original Equipped Tire And Wheel – If Equipped
Your vehicle may be equivalent with a spare tire and wheel in look and function as the original equipment tire and wheel found on the front or rear axle of your vehicle. This spare tire may be us ...
Overview
The new 2011 Chrysler Town & Country minivan delivers great American design, innovative technology, unparalleled functionality and all the standard safety features a family aspires to have in ...
Satellite Radio
To switch to satellite radio mode, say "Sat" or "Satellite Radio". In this mode, you may say the following commands: • "Channel Number" (to change the channel by its spoken number) ...