Headphones Operation
The headphones receive two separate channels of audio using an infrared transmitter from the video screen.
Front seat occupants receive some headphone audio coverage to allow them to adjust the headphone volume for the young rear seat occupants that may not be able to do so for themselves.
If no audio is heard after increasing the volume control, verify that the screen is turned on and in the down position and that the channel is not muted and the headphone channel selector switch is on the desired channel. If audio is still not heard, check that fully charged batteries are installed in the headphones.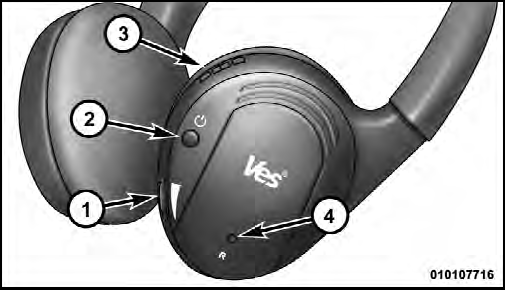 1. Volume Control
2. Power Button
3. Channel Selection Switch
4. Power Indicator
See also:
Common Towing Definitions
The following trailer towing related definitions will assist you in understanding the following information: Gross Vehicle Weight Rating (GVWR) The GVWR is the total allowable weight of your vehic ...
Engine Air Cleaner Filter
Refer to the "Maintenance Schedule" for the proper maintenance intervals. WARNING! The air induction system (air cleaner, hoses, etc.) can provide a measure of protection in the case of engi ...
RW/FF
Pressing the RW (Rewind) or FF (Fast Forward) buttons causes the tuner to search for the next frequency in the direction of the arrows. This feature operates in either AM or FM frequencies. ...