Third Row Swivel Screen (If Equipped)
• The third row screen or Screen 2 has the ability to lower and swivel to face forward.
• While the swivel screen is facing forward, the second row screen or Screen 1 must be fully open in order for the swivel screen (Screen 2) to work.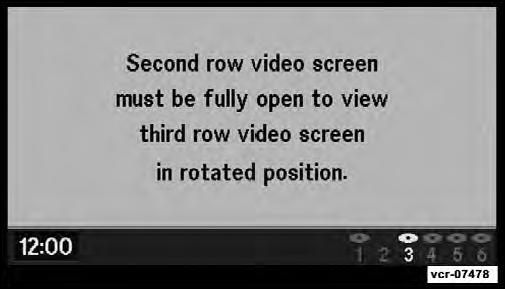 See also:
HSA Off
If you wish to turn off the HSA system, it can be done using the Customer Programmable Features in the Electronic Vehicle Information Center (EVIC). Refer to "Electronic Vehicle Information Ce ...
Rear Tail, Stop, Turn Signal, Side Marker And Backup Lamp
1. Raise the liftgate. 2. Remove the tail lamp assembly by removing the two screws from the inboard side. Use a fiber stick or similar tool to gently pry the light on the outboard side to disen ...
Safety
WARNING! • Improperly inflated tires are dangerous and can cause collisions. • Under-inflation increases tire flexing and can result in over-heating and tire failure. • Over-inflation red ...