Using The Remote Control
1. Press the MODE button on the Remote Control and either the Mode Select Screen will display or a small banner will appear at the bottom of the screen.
2. To listen to an audio source on Channel 1 or 2, either press Up/Down/Left/Right on the Remote Control to highlight the desired audio source or press the MODE button repeatedly until the desired audio source appears on the screen.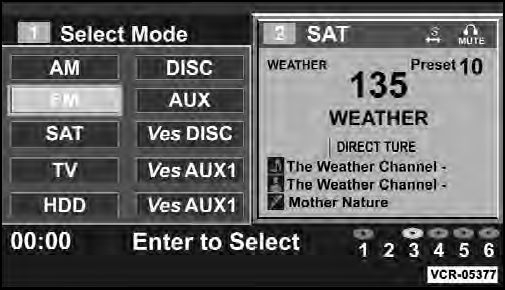 Select FM Mode On The VES screen
See also:
Cooling System – Drain, Flush, And Refill
If the engine coolant (antifreeze) is dirty or contains a considerable amount of sediment, clean and flush with a reliable cooling system cleaner. Follow with a thorough rinsing to remove all de ...
Tire PSI
Press and release the UP or DOWN button until "Tire PSI:" displays highlighted in the EVIC. Press the SELECT button to view a graphic of the vehicle with a tire pressure value at each corner ...
Air Conditioning (A/C)
The Air Conditioning (A/C) button allows the operator to manually activate or deactivate the air conditioning system. When in A/C mode and the ATC is set to a cool temperature, dehumidified air ...