Using The Remote Control
1. Press the MODE button on the Remote Control and either the Mode Select Screen will display or a small banner will appear at the bottom of the screen.
2. To listen to an audio source on Channel 1 or 2, either press Up/Down/Left/Right on the Remote Control to highlight the desired audio source or press the MODE button repeatedly until the desired audio source appears on the screen.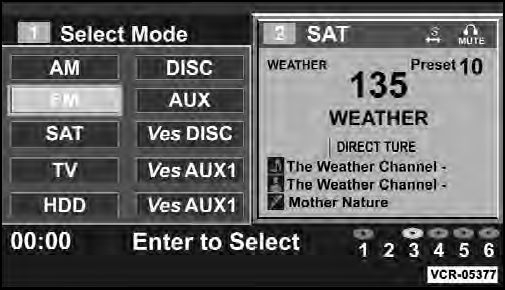 Select FM Mode On The VES screen
See also:
Automatic Transmission
The DRIVE range can be selected when towing. However, if frequent shifting occurs while in this range, select a lower gear range using the AutoStick shift control (if equipped). NOTE: Selectin ...
Touch-Tone Number Entry
• Touch the "Phone" soft-key, • Touch the "Dial" soft-key, • The Touch-Tone screen will be displayed, • Use the numbered soft-keys to enter the number and touch "Call". To send ...
Call Termination
To end a call in progress, momentarily press the button. Only the active call(s) will be terminated and if there is a call on hold, it will become the new active call. If the active call is ter ...