Using The Touch-Screen Radio Controls
1. Press the MENU hard-key on the radio faceplate.
2. Touch the Rear VES soft-key to display the Rear VES Controls. If a channel list is displayed, touch the HIDE LIST soft-key to display the Rear VES Controls screen.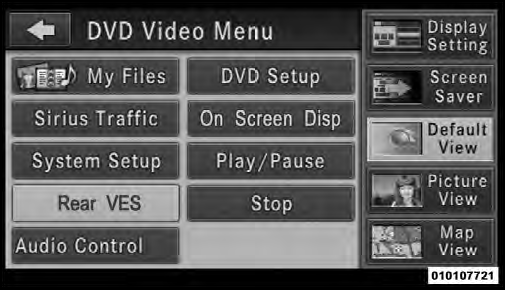 Rear VES Soft-key
3. Touch the 1 or 2 soft-key and then the DISC soft-key in the VES column. To exit touch the back arrow soft-key at the top left of the screen.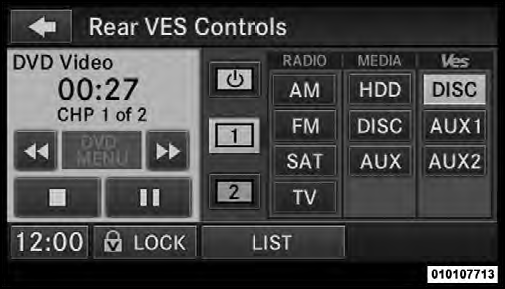 Select Channel/Screen 1 And DISC In The VES Column
NOTE:
• To view a DVD on the radio press the RADIO/MEDIA hard-key, on the radio faceplate, then touch the DISC tab soft-key and then the VIEW VIDEO soft-key.
• Viewing a DVD on the Touch-Screen radio screen is not available in all states/provinces, and the vehicle must be stopped, and the shift lever must be in the PARK position for vehicles with automatic transmission.
In vehicles with manual transmission the parking brake must be engaged.
See also:
SPORT – If Equipped
This mode alters the transmission's automatic shift schedule for sportier driving. Upshift speeds are increased to make full use of available engine power. To switch between DRIVE and SPORT mo ...
Fuel Requirements
This engine is designed to meet all emissions regulations and provide excellent fuel economy and performance when using high-quality unleaded "regular" gasoline having an octane rating o ...
Radial Ply Tires
WARNING! Combining radial ply tires with other types of tires on your vehicle will cause your vehicle to handle poorly. The instability could cause a collision. Always use radial ply tires in s ...