Using The Touch-Screen Radio Controls
1. Press the MENU hard-key on the radio faceplate.
2. Touch the Rear VES soft-key to display the Rear VES Controls. If a channel list is displayed, press the HIDE LIST soft-key to display the Rear VES Controls screen.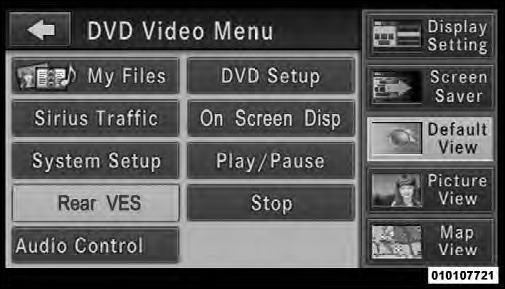 Rear VES Soft-key
3. Touch the 1 soft-key and then touch either AUX 1 or AUX 2 in the VES column (depending which AUX input is used). To exit press the back arrow soft-key at the top of the screen.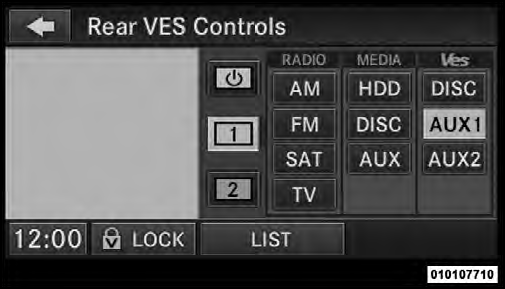 Select Channel/Screen 1 And AUX 1 In The VES Column
See also:
Anti-Lock Brake Warning Light
The "Anti-Lock Brake Warning Light" monitors the anti-lock brake system. The light will come on when the ignition switch is turned to the ON position and may stay on for as long as fou ...
Sentry Key
The Sentry Key Immobilizer system prevents unauthorized vehicle operation by disabling the engine. The system does not need to be armed or activated. Operation is automatic, regardless of whethe ...
Fuel Requirements
Your vehicle will operate on both unleaded gasoline with an octane rating of 87, or E-85 fuel, or any mixture of these two. For best results, a refueling pattern that alternates between E-85 and ...