Play Video Games
Connect the video game console to the Auxiliary RCA input jacks (1 set or 2 depending on vehicle) located on the back of the center console or on left side behind the second row seat.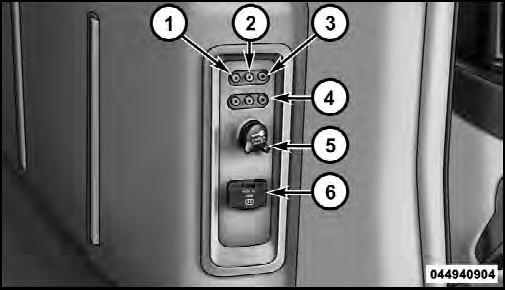 1. Video In – Yellow
2. Left Audio In – White
3. Right Audio In – Red
4. AUX 2 Inputs (If Equipped)
5. Power Outlet
6. Power Inverter
When connecting an external source to the AUX input, be sure to follow the standard color coding for the VES™ jacks:
NOTE:
Certain high-end video games, such as Playstation3 and XBox360 will exceed the power limit of the vehicle's Power Inverter. Refer to the Power Inverter section in your vehicle's Owner's Manual for more information.
Ensure the Remote Control and Headphone switch is on Channel 1.
See also:
Overdrive Operation
The automatic transmission includes an electronically controlled Overdrive (fifth gear). The transmission will automatically shift into the Overdrive gear if the following conditions are present ...
Manual Front Seat Adjustment
The manual seat adjustment bar is at the front of the seat, near the floor. Manual Seat Adjusting Bar Pull the bar upward to move the seat forward or rearward. Release the bar once the seat is ...
Points To Remember
NOTE: When the vehicle is stopped after a few miles (kilometers) of operation, you may observe vapor coming from the front of the engine compartment. This is normally a result of moisture from ...