Getting Started
• Screen(s) located in the overhead console : Unfold the overhead LCD screen(s) by pushing the button on the overhead console behind the screen(s).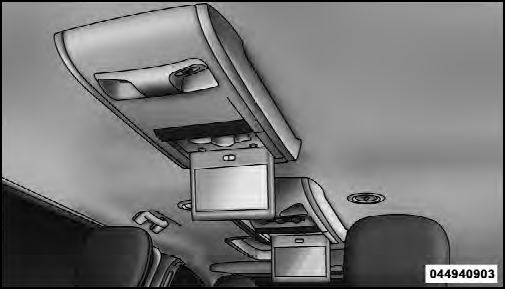 • Cycle the ignition to the ON or ACC position.
• Turn on the VES™ player (if equipped on Dual Screen System) by pushing the Power button, located on the far left, or by pressing the button on the Remote Control.
• When the Video Screen(s) are open and a DVD is inserted into the VES™ player, the screen(s) turn(s) on automatically, the headphone transmitters turn on and playback begins.
• For Dual Video Screen System, Channel 1 on the Remote Control and Headphones refers to Screen 1 (second row) and Channel 2 on the Remote Control and Headphones refers to Screen 2 (third row). Refer to the Dual Video Screen section for more information.
See also:
Trailer Tongue Weight (TW)
The tongue weight is the downward force exerted on the hitch ball by the trailer. In most cases it should not be less than or more than 10% of the trailer load. You must consider this as part of ...
MMT In Gasoline
MMT is a manganese-containing metallic additive that is blended into some gasoline to increase octane. Gasoline blended with MMT provides no performance advantage beyond gasoline of the same oct ...
Ways To Initiate A Phone Call
Listed below are all the ways you can initiate a phone call with Uconnect™ Phone. • Redial • Dial by touching in the number • Voice Commands (Dial by Saying a Name, Call by Saying a Phone ...