Supported MP3 File Formats
The radio will recognize only files with the *.MP3 extension as MP3 files. Non-MP3 files named with the *.MP3 extension may cause playback problems. The radio is designed to recognize the file as an invalid MP3 and will not play the file.
When using the MP3 encoder to compress audio data to an MP3 file, the bit rate and sampling frequencies in the following table are supported. In addition, variable bit rates (VBR) are also supported. The majority of MP3 files use a 44.1 kHz sampling rate and a 192, 160, 128, 96 or VBR bit rate.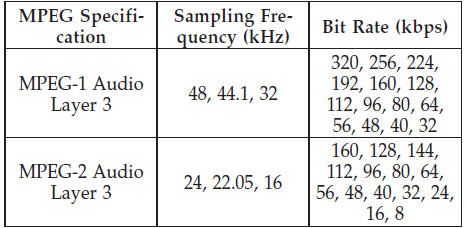 ID3 Tag information for artist, song title, and album title are supported for version 1 ID3 tags. ID3 version 2 is not supported by the radios.
Playlist files are not supported. MP3 Pro files are not supported.
See also:
Cooling System Pressure Cap
The cap must be fully tightened to prevent loss of coolant, and to ensure that engine coolant (antifreeze) will return to the radiator from the coolant recovery bottle. The cap should be inspec ...
Enabling And Disabling Parksense
ParkSense can be enabled and disabled using the Uconnect Touch™ System. The available choices are: Off, Sound Only, or Sound and Display. Refer to "Uconnect Touch™ Settings" in "Unders ...
Towing Requirements – Trailer Lights And Wiring
Whenever you pull a trailer, regardless of the trailer size, stop lights and turn signals on the trailer are required for motoring safety. ...