Media Center 130 (Sales Code RES)
NOTE:
The radio sales code is located on the lower right side of the radio faceplate.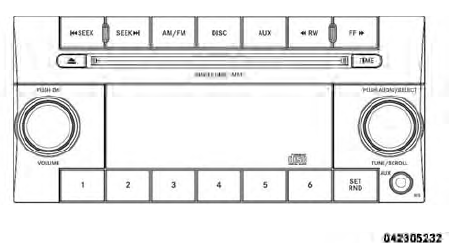 Media Center 130 (RES)
See also:
Windshield Wiper Blades
Clean the rubber edges of the wiper blades and the windshield periodically with a sponge or soft cloth and a mild nonabrasive cleaner. This will remove accumulations of salt or road film. Opera ...
Introduction
Congratulations on selecting your new Chrysler Group LLC vehicle. Be assured that it represents precision workmanship, distinctive styling, and high quality - all essentials that are traditional ...
Using The Touch-Screen Radio Controls
1. Press the MENU hard-key on the radio faceplate. 2. Touch the Rear VES soft-key to display the Rear VES Controls. If a channel list is displayed, touch the HIDE LIST soft-key to display the Rea ...