Supplemental Seat-Mounted Side Air Bags (SAB)
Supplemental Seat-Mounted Side Air Bags (SAB) may provide enhanced protection to help protect an occupant during a side impact. The SAB is marked with an air bag label sewn into the outboard side of the front seats.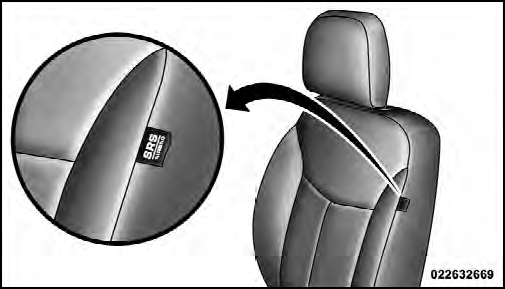 Supplemental Seat-Mounted Side Air Bag Label
When the air bag deploys, it opens the seam between the front and side of the seat's trim cover. Each air bag deploys independently; a left side impact deploys the left air bag only and a right-side impact deploys the right air bag only.
See also:
Air Bag System Components
Your vehicle may be equipped with the following air bag system components: • Occupant Restraint Controller (ORC) • Air Bag Warning Light • Steering Wheel and Column • Instrument Panel • ...
To Reinstall The Basic Floor Console
1. Position the console at a slight angle (front slightly higher than the rear). 2. Slide the console rearward into the floor bracket/ hook. 3. Align the console until the front anchor cup plug ...
Safety
WARNING! • Improperly inflated tires are dangerous and can cause collisions. • Under-inflation increases tire flexing and can result in over-heating and tire failure. • Over-inflation red ...