Compass Variance
Compass Variance is the difference between Magnetic North and Geographic North. To compensate for the differences the variance should be set for the zone where the vehicle is driven, per the zone map. Once properly set, the compass will automatically compensate for the differences, and provide the most accurate compass heading. For the most accurate compass performance, the compass must be set using the following steps.
NOTE:
Keep magnetic materials away from the top of the instrument panel, such as iPod's, Mobile Phones, Laptops and Radar Detectors. This is where the compass module is located, and it can cause interference with the compass sensor, and it may give false readings.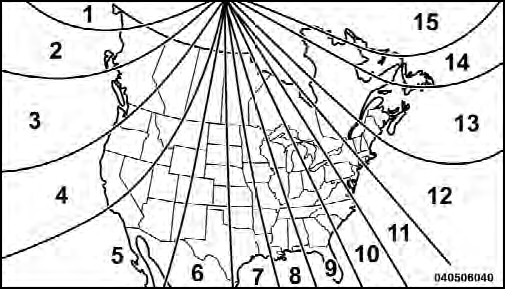 Compass Variance Map
1. Turn the ignition switch ON.
2. Press the UP or DOWN button until the Setup (Customer-Programmable Features) menu is reached, then press the SELECT button.
3. Press the DOWN button until the "Compass Variance" message is displayed in the EVIC, then press the SELECT button. The last variance zone number displays in the EVIC.
4. Press and release the SELECT button until the proper variance zone is selected, according to the map.
5. Press and release the RETURN button to exit.
See also:
Manual Compass Calibration — If Equipped
If the compass appears erratic and the CAL indicator does not appear in the EVIC display, you must put the compass into the Calibration Mode manually, as follows: 1. Turn ON the ignition switch. ...
General Information
This device complies with Part 15 of the FCC rules and RSS 210 of Industry Canada. Operation is subject to the following conditions: • This device may not cause harmful interference. • This ...
Setting The Analog Clock
To set the analog clock at the top center of the instrument panel, press and hold the button until the setting is correct. Setting The Analog Clock ...