Compass Variance
Compass Variance is the difference between Magnetic North and Geographic North. To compensate for the differences the variance should be set for the zone where the vehicle is driven, per the zone map. Once properly set, the compass will automatically compensate for the differences, and provide the most accurate compass heading. For the most accurate compass performance, the compass must be set using the following steps.
NOTE:
Keep magnetic materials away from the top of the instrument panel, such as iPod's, Mobile Phones, Laptops and Radar Detectors. This is where the compass module is located, and it can cause interference with the compass sensor, and it may give false readings.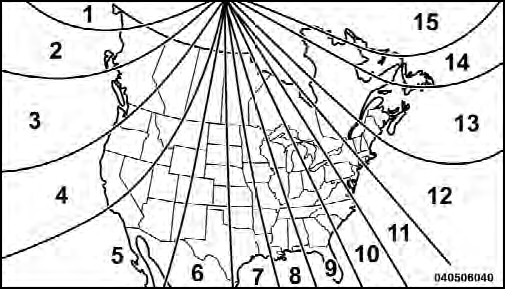 Compass Variance Map
1. Turn the ignition switch ON.
2. Press the UP or DOWN button until the Setup (Customer-Programmable Features) menu is reached, then press the SELECT button.
3. Press the DOWN button until the "Compass Variance" message is displayed in the EVIC, then press the SELECT button. The last variance zone number displays in the EVIC.
4. Press and release the SELECT button until the proper variance zone is selected, according to the map.
5. Press and release the RETURN button to exit.
See also:
Trailer Hitch Classification
Your vehicle may be factory equipped for safe towing of trailers weighing over 2,000 lbs (907 kg) with the optional Trailer Tow Prep Package. See your authorized dealer for package content. The ...
Parking Brake
Before leaving the vehicle, make sure that the parking brake is fully applied and place the shift lever in the PARK position. The foot operated parking brake is located below the lower left cor ...
Dial By Saying A Number
• Press the button to begin, • After the "Listening" prompt and the following beep, say "Dial 248-555-1212", • The Uconnect™ Phone will dial the number 248-555-1212. ...