Stowing the Crossbars
Reverse the procedure to stow the crossbars, again, taking care to keep hand clear of pivoting joint. Crossbars are identical and can be stowed in either rail nest. Once the crossbars are stowed, tighten the thumb screws completely.
NOTE:
Load should always be secured to crossbars first, with rail tie down loops used as additional securing points if needed. Tie loops are intended as supplementary tie down points only. Do not use ratcheting mechanisms with the tie loops.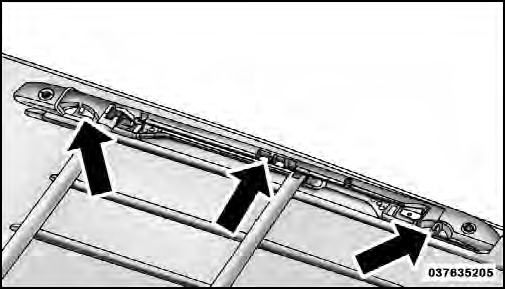 Rail Tie Loops
CAUTION!
• Check deployed crossbars frequently and retighten thumb screws as necessary.
• To avoid damage to the roof rack and vehicle, do not exceed the maximum roof rack load capacity of 150 lbs (68 kg). Always distribute heavy loads as evenly as possible and secure the load appropriately.
• To prevent damage to the roof of your vehicle, DO NOT carry any loads on the roof rack without the crossbars deployed.
• The load should be secured and placed on top of the crossbars, not directly on the roof. If it is necessary to place the load on the roof, place a blanket or other protective layer between the load and the roof surface.
• Long loads which extend over the windshield, such as wood panels or surfboards, or loads with large frontal area should be secured to both the front and rear of the vehicle.
• Travel at reduced speeds and turn corners carefully when carrying large or heavy loads on the roof rack. Wind forces, due to natural causes or nearby truck traffic, can add sudden upward lift to a load. This is especially true on large flat loads and may result in damage to the cargo or your vehicle.
WARNING!
Cargo must be securely tied before driving your vehicle. Improperly secured loads can fly off the vehicle, particularly at high speeds, resulting in personal injury or property damage. Follow the Roof Rack Cautions when carrying cargo on your roof rack.
See also:
Weight-Carrying Hitch
A weight-carrying hitch supports the trailer tongue weight, just as if it were luggage located at a hitch ball or some other connecting point of the truck. These kinds of hitches are the most po ...
Towing Requirements – Tires
• Do not attempt to tow a trailer while using a compact spare tire. • Proper tire inflation pressures are essential to the safe and satisfactory operation of your vehicle. Refer to "Tires ...
Programming A Rolling Code
For programming garage door openers that were manufactured after 1995. These garage door openers can be identified by the "LEARN" or "TRAIN" button located where the hanging antenna is a ...