Premium Console — If Equipped
The three-compartment console with sliding storage bin, sliding upper tray with storage and large console storage bin offers multiple configurations.
• Four cupholders with dishwasher safe liners for cleaning. The cupholders can accept plastic bottles, large cups or mugs with handles.
• Top tray storage
• Upper storage bin can hold nine regular or 18 thin CDs or other items
• Large console center storage will store headphones for the available rear DVD entertainment system or other items
• 12 Volt DC power outlet provides continuous power inside the console for cell phones or other electronics.
• Rear occupant accessible
• Multiple adjustments
• Removable from vehicle for additional floor space.
The top and center console sections slide forward and rearward to provide added user comfort.Aone-piece cup holder insert for both cavities can easily be removed for cleaning. The cupholders will also accommodate large size cups and 20 oz (.6 L) bottles.
Position 1 shows the console closed with four cupholders and a convenient storage tray.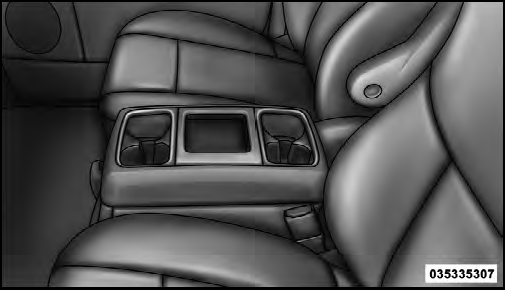 Console Position 1
Position 2 shows the raised storage tray revealing a large storage area below.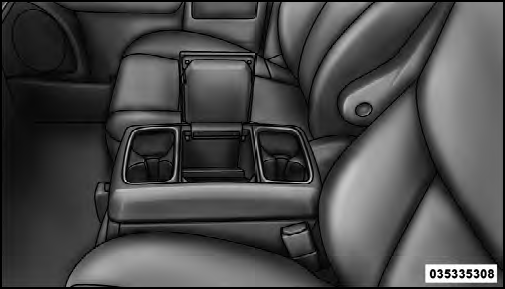 Console Position 2
See also:
DVD Audio Support
When a DVD-Audio disc is inserted in the VES™ DVD player, the DVD-Audio title on the disc is played by default (most DVD-Audio discs also have a Video title, but the Video title is ignored). A ...
Voice Mail Calling
To learn how to access your voice mail, refer to "Working with Automated Systems". ...
Front Side Marker Lamp
1. Raise the hood to access the rear of the headlamp housing. NOTE: Access is somewhat limited. You may have to remove the inner fender well or remove the headlamp housing for bulb replacement ...