Second Row Floor Storage Bins
The area below the floor covers, located in front of the second row seats, is available for storage.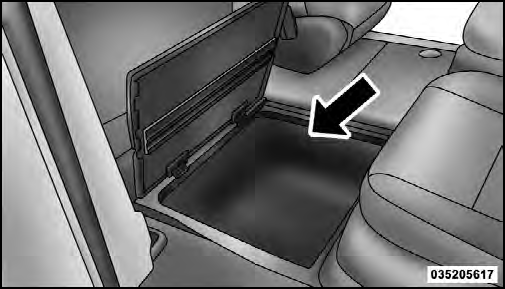 Storage Bin Cover Lock Release
Pull up on the storage bin latch to open the cover. Slide the storage bin locking mechanism to the unlocked position to allow greater access to the storage bin.
CAUTION!
The storage bin cover must lay flat and be locked to avoid damage from contact with the front seat tracks, which have minimal clearance to the cover.
WARNING!
In a collision, serious injury could result if the seat storage bin covers are not properly latched.
• Do not drive the vehicle with the storage bin covers open.
• Keep the storage bin covers closed and latched while the vehicle is in motion.
• Do not operate the storage bin covers while the vehicle is in motion.
• Do not use a storage bin latch as a tie down.
See also:
Sunshade Operation
The sunshade can be opened manually. However, the sunshade will open automatically as the sunroof opens. NOTE: The sunshade cannot be closed if the sunroof is open. ...
Parksense System Usage Precautions
NOTE: • Ensure that the front and rear bumper are free of snow, ice, mud, dirt and debris to keep the ParkSense system operating properly. • Jackhammers, large trucks, and other vibrations ...
EVIC Red Telltale Lights
This area will show reconfigurable red telltales. These telltales include: • Door Ajar This light will turn on to indicate that one or more doors may be ajar. • Oil Pressure Warning Lig ...