Rear Overhead Consoles — If Equipped
The rear overhead storage system is available in two versions: with or without sunroof.
An additional LED at the front of the rear console shines down on the front foot-well area while in courtesy mode, for added convenience.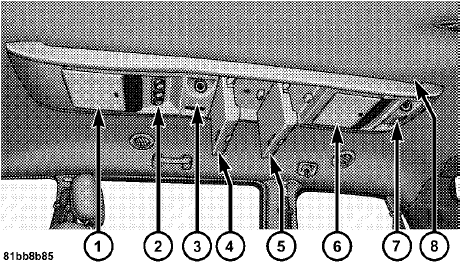 Overhead Compartment Features
1 — DVD (If equipped, otherwise storage.)
2 — Rear HVAC
3 — Interior Lights
4 — Storage
5 — Storage
6 — DVD (If equipped, otherwise storage.)
7 — Interior Lights
8 — Halo Lighting
Rear Console Halo Lighting
The rear overhead console has recessed halo lighting around the perimeter of the console base. This feature provides additional lighting options while traveling and is controlled by the headlight switch. Refer to "Lights/ Halo Lights — If Equipped" in "Understanding the Features Of Your Vehicle" for further information.
See also:
Safety
WARNING! • Improperly inflated tires are dangerous and can cause collisions. • Under-inflation increases tire flexing and can result in over-heating and tire failure. • Over-inflation red ...
Stationary Objects And Vehicles
ACC does not react to stationary objects and stationary vehicles. For example, ACC will not react in situations where the vehicle you are following exits your lane and the vehicle ahead is stopp ...
Adaptive Cruise Control (ACC) — If Equipped
Adaptive Cruise Control (ACC) increases the driving convenience provided by cruise control while traveling on highways and major roadways. However, it is not a safety system and not designed to ...