Parksense Warning Display
The ParkSense Warning screen will only be displayed if Sound and Display is selected from the Customer- Programmable Features section of the Electronic Vehicle Information Center (EVIC). Refer to "Electronic Vehicle Information Center (EVIC)/Personal Settings (Customer- Programmable Features)" in "Understanding Your Instrument Panel" for further information.
The ParkSense Warning Display is located in the Instrument cluster's EVIC display. It provides both visual and audible warnings to indicate the distance between the rear fascia/bumper and the detected obstacle.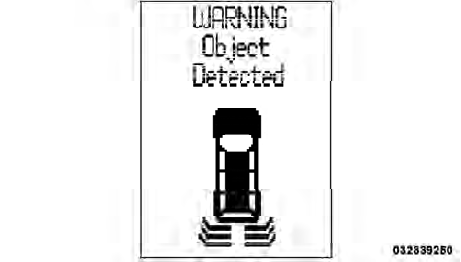 ParkSense Warning Display
See also:
Opening Sunroof — Manual Mode
To open the sunroof, press and hold the switch rearward to full open. Any release of the switch will stop the movement and the sunroof will remain in a partially opened condition until the switc ...
Disposal Of Used Engine Coolant
Used ethylene glycol based engine coolant (antifreeze) is a regulated substance requiring proper disposal. Check with your local authorities to determine the disposal rules for your community. T ...
Automatic Transmission
The automatic transmission and differential assembly are contained within a single housing. The fluid level in the automatic transmission should be checked whenever the vehicle is serviced. Opera ...