To Open And Close The Hood
To open the hood, two latches must be released.
1. Pull the hood release lever located on the instrument panel, below the steering column.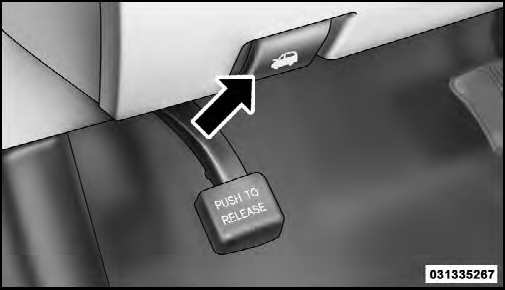 Hood Release
2. Move to the front of the vehicle and look inside the center of the hood opening. Locate, then push the safety catch lever downward while raising the hood at the same time.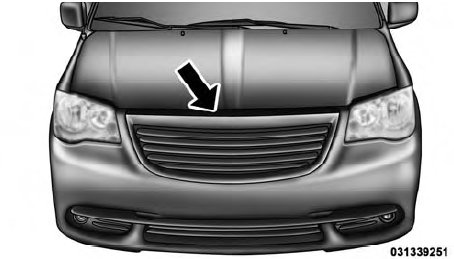 Safety Catch Location
Use the hood prop rod to secure the hood in the open position.
CAUTION!
To prevent possible damage, do not slam the hood to close it. Lower the hood until it is open approximately 12 in (30 cm) and then drop it. This should secure both latches. Never drive your vehicle unless the hood is fully closed, with both latches engaged.
WARNING!
Be sure the hood is fully latched before driving your vehicle. If the hood is not fully latched, it could open when the vehicle is in motion and block your vision.
Failure to follow this warning could result in serious injury or death.
See also:
Rear Head Restraints
The center head restraint has two positions, up or down. When the center seat is being occupied the head restraint should be in the raised position. When there are no occupants in the center seat ...
Transfer Call To And From Mobile Phone
The Uconnect™ Phone allows ongoing calls to be transferred from your mobile phone to the Uconnect™ Phone without terminating the call. To transfer an ongoing call from your Uconnect™ Phone ...
Media Center 730N/430/430N (RHR/RER/RBZ/RHB) CD/DVD/HDD/NAV — If Equipped
NOTE: The sales code is located on the lower right side of the unit's faceplate. Refer to your Uconnect™ Multimedia RHR, RER, RBZ or RHB user's manual for detailed operating instructions. ...