Third Row Power Folding Seat — If Equipped
A one-touch power folding seat switch is located in the left rear trim panel as part of a switch bank.
NOTE:
Lower the head restraint by pulling on the release strap marked "1" located on the outboard side of the head restraint.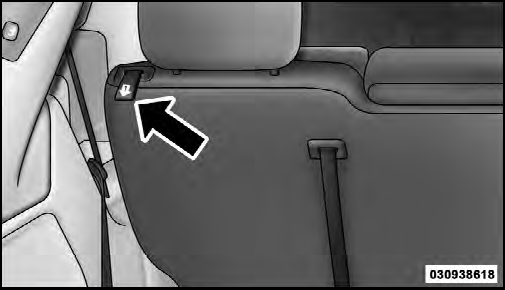 Head Restraint Release Strap "1"
The switch is only functional when the liftgate is open and the vehicle is in PARK.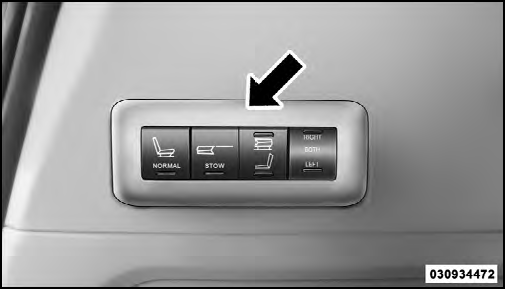 One Touch Folding Seat Third Row
The rear switch bank allows multiple power folding and unfolding positions for the third row seats.
Left and right third row seats can be folded individually or together. The third row power folding seat adjusts to the following positions using the switch bank located on the left rear trim panel: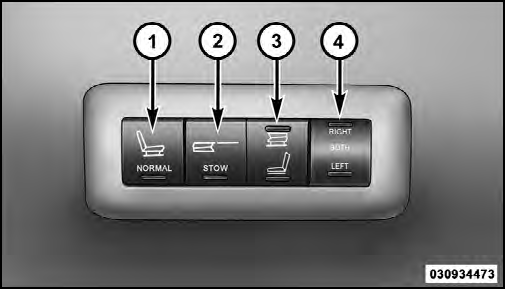 Rear Panel Power Switch Bank
1 — Open to Normal
2 — Stow
3 — Tailgate/Fold Flat
4 — Right/Left Seats/Both Seats
NOTE:
• Disconnect the center shoulder belt from the small buckle and lower the head restraints before attempting to fold/stow the power third row seats.
• To abort seat operation while seat is in motion, press a different seat position selector switch to stop the seat.
Once the seat stops moving, then the desired position can be selected.
• The third row power seat system includes obstacle detection for safe operation. When the system detects an obstacle, the motors will stop and reverse the motion a short distance to move the seat away from the obstacle. Should this occur, remove the obstacle and press the button again, for the desired position.
See also:
Overdrive Operation
The automatic transmission includes an electronically controlled Overdrive (fourth gear). The transmission will automatically shift into the Overdrive gear if the following conditions are presen ...
Supplemental Seat-Mounted Side Air Bag (SAB) Inflator Units
The Supplemental Seat-Mounted Side Air Bags (SAB) are designed to activate only in certain side collisions. The ORC determines if a side collision requires the side air bags to inflate, based on ...
Points To Remember
NOTE: When the vehicle is stopped after a few miles (kilometers) of operation, you may observe vapor coming from the front of the engine compartment. This is normally a result of moisture from ...