Quad Seats — If Equipped
Both Quad seats are adjustable forward or rearward. The manual seat adjustment handle is located under the seat cushion at the front edge of each seat.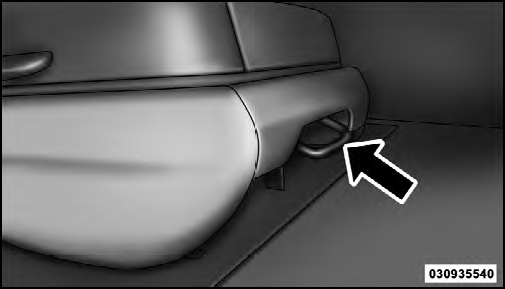 Manual Seat Adjuster
While sitting in the seat, pull up on the handle and slide the seat forward or rearward. Release the bar once you have reached the desired position. Then, using body pressure, move forward and rearward on the seat to be sure that the seat adjusters have latched.
WARNING!
• Adjusting a seat while driving may be dangerous.
Moving a seat while driving could result in loss of control which could cause a collision and serious injury or death.
• Seats should be adjusted before fastening the seat belts and while the vehicle is parked. Serious injury or death could result from a poorly adjusted seat belt.
See also:
Using The Touch-Screen Radio Controls
1. Press the MENU hard-key on the radio faceplate. 2. Touch the Rear VES soft-key to display the Rear VES Controls. If a channel list is displayed, press the HIDE LIST soft-key to display the Rea ...
EJECT Button - Ejecting a CD
Press the EJECT button to eject the CD. If you have ejected a disc and have not removed it within 10 seconds, it will be reloaded. If the CD is not removed, the radio will reinsert the CD but w ...
Vehicle Info (Customer Information Features)
Press and release the UP or DOWN button until "Vehicle Info" displays in the EVIC and press the SELECT button. Press the UP and DOWN button to scroll through the selections below: • Coolan ...