Quad Seats — If Equipped
Both Quad seats are adjustable forward or rearward. The manual seat adjustment handle is located under the seat cushion at the front edge of each seat.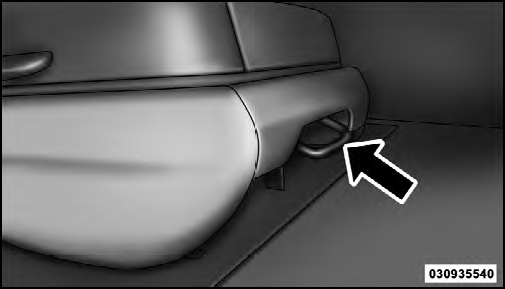 Manual Seat Adjuster
While sitting in the seat, pull up on the handle and slide the seat forward or rearward. Release the bar once you have reached the desired position. Then, using body pressure, move forward and rearward on the seat to be sure that the seat adjusters have latched.
WARNING!
• Adjusting a seat while driving may be dangerous.
Moving a seat while driving could result in loss of control which could cause a collision and serious injury or death.
• Seats should be adjusted before fastening the seat belts and while the vehicle is parked. Serious injury or death could result from a poorly adjusted seat belt.
See also:
Cancel Command
At any prompt, after the beep, you can say "Cancel" and you will be returned to the main menu. However, in a few instances the system will take you back to the previous menu. ...
What Causes Corrosion?
Corrosion is the result of deterioration or removal of paint and protective coatings from your vehicle. The most common causes are: • Road salt, dirt, and moisture accumulation. • Stone and g ...
Precautions While Driving With ACC
In certain driving situations, ACC may have detection issues. In these cases, ACC may brake late or unexpectedly. The driver needs to stay alert and may need to intervene. ...