Adjustable Upper Shoulder Belt Anchorage
In the front seat, the shoulder belt can be adjusted upward or downward to position the belt away from your neck. Push anchorage button to release the anchorage, and move it up or down to the position that serves you best.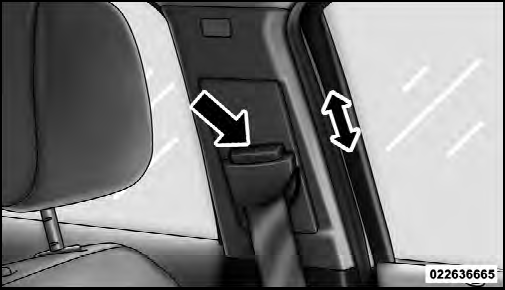 Adjustable Anchorage
As a guide, if you are shorter than average, you will prefer a lower position, and if you are taller than average, you will prefer a higher position. When you release the anchorage, try to move it up or down to make sure that it is locked in position.
See also:
Event Data Recorder (EDR)
This vehicle is equipped with an event data recorder (EDR). The main purpose of an EDR is to record, in certain crash or near crash-like situations, such as an air bag deployment or hitting a ro ...
Electrical Power Outlets
There are three 12 Volt (13 Amp) electrical power outlets on this vehicle. The power outlets are protected by a fuse. Insert cigar lighter or accessory plug into the power outlets for use to ensu ...
Seats
Seats are a part of the Occupant Restraint System of the vehicle. WARNING! • It is dangerous to ride in a cargo area, inside or outside of a vehicle. In a collision, people riding in these a ...