Trunk Internal Emergency Release
As a security measure, a Trunk Internal Emergency Release lever is built into the trunk latching mechanism.
In the event of an individual being locked inside the trunk, the trunk can be simply opened by pulling on the glow-in-the-dark handle attached to the trunk latching mechanism.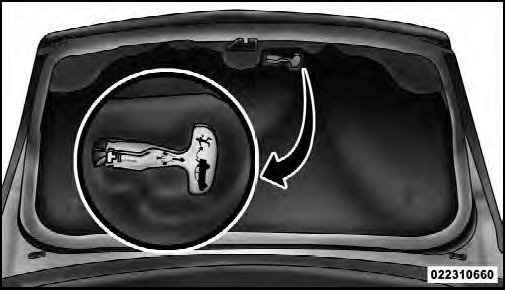 Trunk Internal Emergency Release
See also:
More Than Lipstick on a Pig
Were the 200 merely a reskinned Sebring, we would dismiss it as lipstick on a two-ton pig, hardly worthy of a new moniker. But although Chrysler could have gone further to make the 200 more fun to ...
Towing Tips
Before setting out on a trip, practice turning, stopping and backing the trailer in an area away from heavy traffic. ...
SETUP Button
Pressing the SETUP button allows you to select between the following items: • Set Clock — Pressing the SELECT button will allow you to set the clock. Adjust the hours by turning the TUNE/SC ...